spacer
WEBINAR
ARE YOUR MATERIALS MISSING THE MARK? SELECTING THE OPTIMAL THERMAL RESISTANCE SOLUTION TO MEET YOUR APPLICATION REQUIREMENTS
May 5 2022 12PM ET
Demands for thermal management solutions are increasing alongside trends such as electrification, demands for increased energy density, and higher performance applications. High performance plastics and advanced ceramic materials both provide excellent properties to cater to this requirement, providing a thermal management solution for existing and emerging technologies. This webinar will provide critical insight in to how these materials can effectively and efficiently solve thermal issues to improve overall performance.
Discussion points:
Evaluating application specifications and determining the material best suited for the task
The trade-off of a material's mechanical property to achieve its thermal characteristics
Weighing the cost of a potential material against its life expectancy and suitability to the application
Expert Speakers:
Moderator: Brandon Brown, Vice President Of Engineering, C-Therm Technologies Ltd.
Steve Chernack, Global Technical Manager, Thermal Ceramics
Shahab Zekriardehani, Ph.D., Technology Manager, Polymers & Nanocomposites, Eaton
Will Goertzen, Ph.D., Center Engineering Manager, Schlumberger
spacer
Accelerating the Development of Added-Value Ceramic Materials by Leveraging Scanning Electron Microscopy and the Focused Ion Beam Information
24 June 2021 12PM ET
Advanced ceramic composites such as industrial ceramic coatings are praised and increasingly used by materials scientists due to the array of benefits they provide.
For instance, the ability to seal surfaces, the increase of thermal shock resistance using layered structures, and the propension to withstand high temperature conditions at high velocity, have positioned thermal barrier coatings (TBC) as an ideal blend for space-related applications.
It's precisely the understanding and control of the structure-property-composition relationships at the nanoscale level of those TBC that drives those materials performances. The combination of scanning electron microscopy (SEM) with the focused ion beam (FIB) technique extends the 2D high-resolution imaging to a true automated 3D reconstruction, enabling the acceleration from the research and development stages to the production and manufacturing floors.
What you will learn:
What the challenges of the-dimensional microanalysis on non-conductive, non-traditional ceramic materials are
How two-dimensional data is turned into three-dimensional volumes and actionable information
Where automation is improving throughput and accessibility of advanced charged particle microscopes.
Expert Speakers:
Rick Passey, SEM/DualBeam Applications Specialist, Thermo Fisher Scientific
Hugues "H" Francois-Saint-Cyr, Industrial Sales Development Manager, Thermo Fisher Scientific
spacer
spacer
spacer
spacer
Session sponsored by:
spacer
spacer
Understanding the Benefits of Advanced Ceramic Materials for Withstanding Harsh Environment Applications
25 May 2021 11AM ET
Advanced ceramics are well suited to harsh environments given their ability to withstand high temperatures, various types of corrosion and can provide optical protection. This makes them the ideal material to act as a barrier between the harshest of elements and high value components. Advanced Ceramics can prevent damage to sensitive equipment, slow chemical and environmental corrosion and not lose its functional shape due to high temperatures. This session will feature a case study of harsh environments in space by the European Space Agency. The rest of the discussion will explore the benefits of advanced ceramics in meeting harsh environment application requirements of any sort. Attendance will help the audience to better understand the latest advancements and requirements in harsh environment application development.
Points to be discussed:
Exploring the challenges of harsh environmental application development for key markets such as aerospace
Learn how to effectively protect your product from extreme heat, radiation or chemical/environmental corrosion
Determine the machinability of ceramic materials and how they may fit into you manufacturing process
Confirmed Discussion Leader:
Landon Mertz, CEO, Cerion Nanomaterials
Confirmed Speakers:
Yuriy Butenko, Materials Engineer, European Space Agency
Dr. Frank Meyer, Managing Director, CeraNovis GmbH
Dr. Adrian P. Tighe, Materials Engineer, European Space Agency
Jessica Elwell, Chief Operation Officer for OxEon Energy
Growing demands for clean energy solutions and energy storage which require the use of ceramic materials are creating an exciting area of growth for the ceramics industry. Solid Oxide Fuel Cells (SOFCs) are one such technology, and we spoke with COO of OxEon Energy, Jessica Elwell, to find out a bit more about this.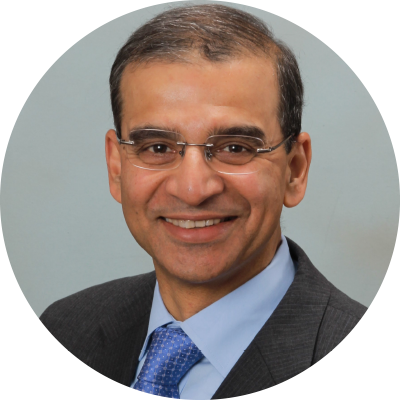 Rakesh Kapoor, Operating Partner, Materials Outovation® Practice, Edgewater Capital Partners
Whilst innovation in the advanced ceramics industry continues to develop, the market dynamic has remained the same for many years. Rakesh Kapoor works for private equity firm, Edgewater Capital Partners, in their Materials Outovation® practice, is helping to shape the future of the market by focusing on the growth of smaller ceramic companies. Rakesh will be sharing his expert knowledge during the Conference at Ceramics Expo, and we caught up with him in the lead up to this to find out a bit more.
spacer
spacer
Wei Fan, Director Global Ceramics Technology, Momentive Technologies
As the head of the Ceramics Technology Department, I am overseeing the R&D activities in our US and Japan facilities. Our R&D organization focuses on delivering the necessary ceramic powder and coating technologies to secure Momentive Technologies' leadership position and to support the growth of the Ceramics business.
spacer
spacer
spacer
Mike Hill, Technical Director at Skyworks
April 2021
Mike Hill, who's company Skyworks is at the forefront of 5G innovation, spoke with us about how he foresees current and upcoming applications of ceramics developing in the near future.
spacer
spacer
spacer
Navin Shakthivel, Lead Engineer-Emerging Technologies, Additive Manufacturing Technology Development, Baker Hughes
April 2021
Navin will be sharing his additive manufacturing expertise as a panelist this year, and we caught up with him to see how this exciting area of the industry is sizing up.
spacer
spacer
spacer
Tom Scaria, Vice President at BassTech International
April 2021
In this interview, we speak with Tom Scaria, Senior Vice President at leading speciality raw materials supplier, BassTech International, about how his company has adjusted to the changes over the preceding months, and about his predictions for the future.
spacer
spacer
spacer
spacer
spacer
Kristopher Behler, Materials Scientist, DEVCOM Army Research Laboratory
In his spare time, he also Co-leads efforts in armor ceramic processing focusing on light weighting using current and novel ultra- to super-hard boride and carbides multiphase/multicomponent materials and architectures. Dr. Behler is also responsible in developing partnerships with academia, industry and other government organizations to collaborate, reduce risk and transition materials, scientific knowledge and products to support the Army and DoD's Mission.
spacer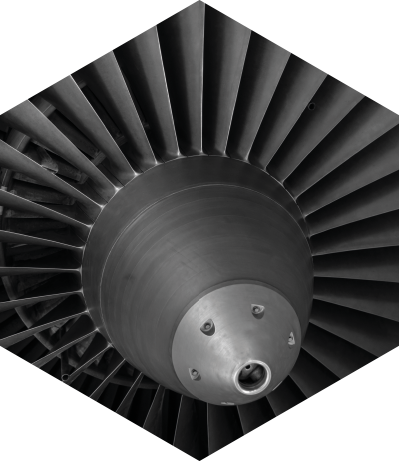 CMCs – What's the Big Deal?
Ceramic Matrix Composites (CMCs) have been at the top of the industry's agenda for a number of years. At Ceramics Expo, this important subject has been covered in our past events and we are excited to be enabling further technological developments through leading the discussion again at our 2022 event. But, what makes this such a hot topic within the ceramic's community?
Tougher, lighter dental implant crowns
Shrimp inspires material for impact-resistant implants, sports equipment, body armors, exoskeletons, aircraft, and more.
Edited by Jake Kauffman
A research group from VTT Technical Research Center of Finland, in collaboration with Nanyang Technological University, developed a sustainable, multiphase nanocomposite mimicking the peachick mantis shrimp, using it to manufacture dental implant crowns. This bioinspired material is an intermixing of birch-cellulose and a set of genetically engineered proteins. The outcome is a material that's stronger, tougher, and substantially lighter than man-made technical ceramics, having the potential to become a next-generation material for a range of applications.
spacer
spacer
Should I use ceramic cutting tools?
Author: Mike Ramsey
Recently, I was asked, "Should I use ceramic cutting tools?" My first question is, "What type of materials are you machining?" Some materials machined with ceramics are cast irons, hardened steels, and some nickel-based alloys. The answer to this question is up to you, but are you ready to use ceramics?
spacer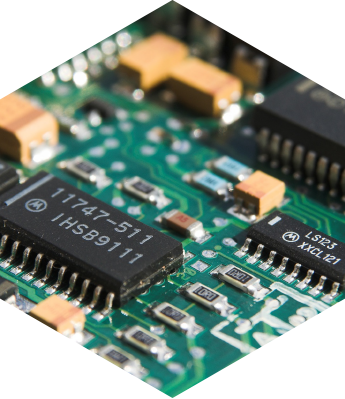 SiC Chips: The Solution to the Semiconductor Shortage
Semiconductors are integral to the functioning of most modern technology. From personal electronics to vehicles, refrigerators to LED light fixtures.
However, shortage in chips ensued during the COVID-19 pandemic. Starting with an increasing demand for work-from-home technologies and entertainment electronics, supply chain and labor shortages, and even extreme events such as a factory fire in Japan's Renesas Electronics facility and power plant cuts due to Texas' unprecedented 2021 snowstorm, the industry's manufacturing fell behind its demand.
spacer
spacer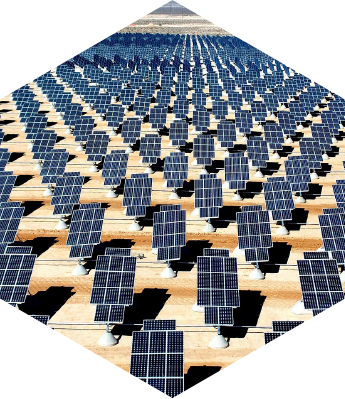 spacer
Enabling Efficiency in Ceramics Manufacturing for a Cleaner Future
With origins in earthenware vessels, the ceramics industry has come a long way from clay pots to components used in outer space. The creation of ceramics dates back as early as 4500 BC, with the pottery wheel estimated to have originated around 3129 BC. From the Ancient Egyptians (who we have the invention of kilns to thank for), to Greek civilizations, Chinese Porcelain, and the origins of stoneware from high temperature fired clays in Germany, their capabilities have undoubtedly stood the test of time.
spacer
spacer
spacer
Promising Advancements in Environmental Barrier Coatings for CMCs
Ceramic Matrix Composites (CMCs) are one of the most exciting materials being developed for, predominantly, aerospace and energy applications. With the addition of fibers within the material's composition, CMCs can withstand extreme temperatures, are resistant to oxidation, and are also light-weight compared to alternative materials.
spacer
spacer
---
spacer
spacer
Ceramics as an Enabling Material for the Future of Connectivity
Connectivity has become the zeitgeist of the 21st century. In a world undeniably governed by digital communication, the emergence of developing technologies to facilitate this global phenomenon continues to expand rapidly.
spacer
spacer
---
spacer
spacer
Future proofing the Ceramics Industry in a Decarbonized World
The ceramic industry has huge potential for green practices. This potential is two fold: one in manufacturing and the other in applications. With the US having rejoined the Paris Climate Agreement earlier this year, it has become imperative for industries to comply with regulations and meet the targets and standards set by the national and international authorities.
spacer
spacer
---
spacer
CONNECT 2020 ON DEMAND

spacer
spacer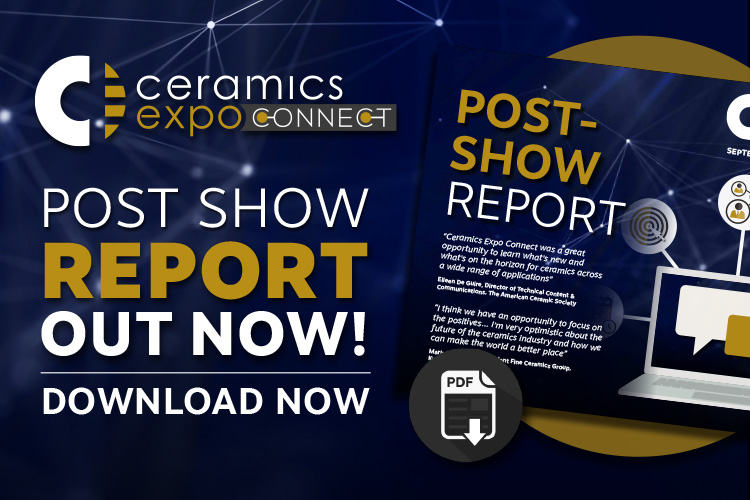 spacer
CERAMICS EXPO CONNECT 2020 POST SHOW REPORT
Across five action-packed days more than 1,500 technical ceramics and glass professionals from the leading organizations connected, held meetings, attended conference sessions, discussed opportunities, shared ideas, and conducted plenty of business.
Download your copy of the post-show report to discover:
Who attended, from which organizations
Some exclusive metrics from the virtual event platform
The most popular virtual conference sessions
The key speakers and experts who shared insights and knowledge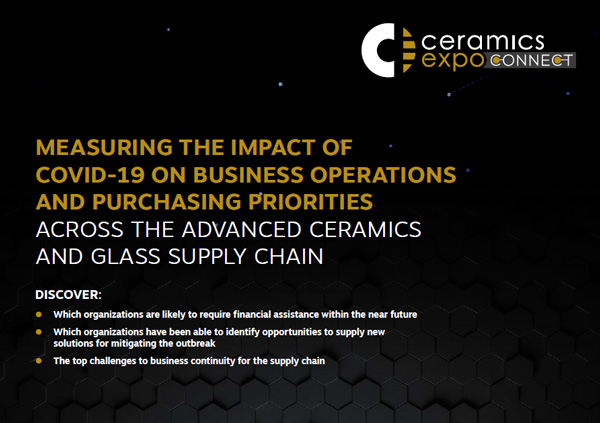 spacer
MEASURING THE IMPACT OF COVID-19 ON BUSINESS OPERATIONS AND PURCHASING PRIORITIES ACROSS THE ADVANCED CERAMICS AND GLASS SUPPLY CHAIN
Discover:
Which organizations are likely to require financial assistance within the near future
Which organizations have been able to identify opportunities to supply new solutions for mitigating the outbreak
The top challenges to business continuity for the supply chain
Webinar: Weathering the COVID-19 Storm: Ensuring Business Continuity in the Advanced Ceramics Supply Chain
Tuesday May 26, 2020
As COVID-19 has swept the globe, global manufacturing has come to a near standstill and only essential businesses are allowed to operate. But what does this mean for the advanced ceramics industry? Gain valuable industry insight of how the advanced ceramic supply chain is responding and planning to overcome the challenges that COVID-19 has put on manufacturing industries. In this webinar, several industry experts, from a range of background including SMEs and global organizations, will discuss key findings of the Ceramics Expo industry survey.
Key questions to be addressed:
• How has the coronavirus outbreak impacted production capacity?
• Which business activities are being put on hold, which ones have become more important and what how have investment strategies changed?
• How are production lines being adapted to serve essential businesses and what constitutes an essential business?
• And what are the challenges in starting manufacturing up again after this period of severe disruption?
spacer
Webinar: Adding Value Through Design: Principles for Ceramic Additive Manufacturing
November 20, 2018
Additive manufacturing allows for more freedom in the design of a part, but at the same time requires a different design approach than more traditional forming methods. For example, manufacturing a part in the green state means that overhanging structures are tricky. In addition, working with ceramic printed materials poses unique processing challenges, such as shrinkage of the part during the sintering process, which can cause cracks or affect precision. Finally, each ceramic AM technology offers different design opportunities and limitations, such as the density of the part that can be achieved.
This webinar will investigate the design principles for ceramic additive manufacturing by looking at the following:
Designing for ceramic AM: general and technology-specific design principles
Current design limitations of ceramic additive manufacturing technologies
Opportunities for ceramic AM to add value in the design process
Speaking companies include: University of Louisville and Boston Ceramics.
spacer
Webinar: Creating Market Pull - Identifying Industry Requirements for Ceramic Additive Manufacturing in High Temperature and Wear Resistant Applications.
February 22, 2018
This webinar investigates the opportunities for ceramic additive manufacturing in high temperature and wear resistant applications by looking at end-user industries such as automotive and their appetite for the technology; as well as their needs to support implementation and the industry's response to these requirements.
The webinar will answer key questions including:
Where are the opportunities for additive manufacturing in high temperature and wear resistant applications?
What do end users need from supply chain (i.e. what challenges need to be overcome) to enable implementation of ceramic additive manufacturing?
What is needed to enable a ceramic additive manufacturing supply chain?
What can be done to create opportunities for this technology?
Speaking companies include: Lithoz GmbH, Delphi Technologies, Johnson Matthey